Classic Combined Wind Transmitter
The Classic Combined Wind Sensor measures the horizontal wind speed and direction in a single unit
Overview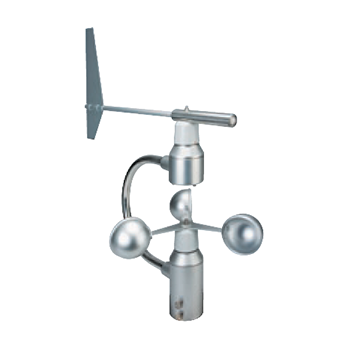 The Classic series of wind transmitters are designed for applications where accuracy and reliability are paramount.
The Classic Combined Wind Sensor measures the horizontal wind speed and direction with an analogue output which can be transmitted to a display, recording instrument, data logger or process control system. For winter operation the sensor is equipped with electronically regulated heating to guarantee the smooth running of the ball bearings and to avoid ice formation on the body.
The housing is made of anodised aluminium for good corrosion resistance and long life. Labyrinth seals and O-rings protect the sensitive internal parts from precipitation. The instrument is designed for mounting to a mast tube and the electrical plug connection is situated in the transmitter shaft.
Common Specifications
Wind Speed
Measuring range
0.3 - 60 m/s (model dependent)
Accuracy
±0.5m/s or ±2% of measured value
Delay distance
5m
Electrical output
Model dependent
Wind Direction
Measuring range
0-360°
Resolution
1° to 2.5° (model dependent)
Accuracy
±1.5°
Damping coefficient
0.2-0.3
Starting value
<0.6m/s at 90°
Electrical output
Electrical output Model dependent
General
Operating voltage - Sensor
Model dependent
Heating
24 V AC/DC; 40W
Ambient temperature
-35° to +80° C
Electrical connection
Multi-pin plug
Mounting
onto mast tube
Sales & Support
Contact Biral for more information
To find out more about this instrument or to discuss your application requirements please do not hesitate to contact Biral.
email enquiries@biral.com (or use the Request More Information button below the product photograph)
Telephone to 01275 847787 (from the UK) or +44 1275 847787 (International)
After Sales Support
Biral offers free advice and technical support for the lifetime of the instruments we sell. Once you have purchased the unit you can always contact us for help using the links on our Technical Support page.