Small Combined Wind Transmitter
The Small combined wind sensor is a mechanical cup and vane anemometer designed for the measurement of the horizontal wind direction speed and direction
Overview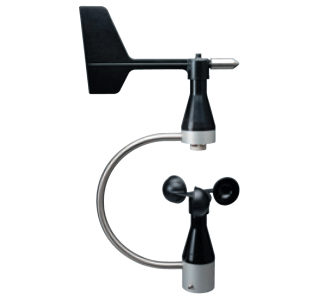 The Small Series of wind transmitters are designed for applications where the best price performance ratio is required.
The Small combined wind sensor is a mechanical cup and vane anemometer designed for the measurement of the horizontal wind direction speed and direction. The all plastic sensor enclosures combined with high quality metal parts provides excellent corrosion resistance whilst labyrinth gaskets protect the electrical components.
An integrated temperature sensor makes this device an excellent choice for use as a simple weather station.
Specifications
Measurements
Wind Speed
Wind Direction
Temperature
Wind Speed
1-40 m/s
Wind Direction
10° – 350°
Temperature
NTC, 10KΩ
Output
Velocity
Switched contacts
Direction
Potentiometer
Temperature
Resistance
Ambient temperature
-30° to +60° C
Electrical connection
15m Cable
Mounting
30mm bore for post mounting
Dimensions
418 mm high
Protection
IP54
Weight
1 kg
Material
Plastic, Anodised aluminium and Stainless steel
Sales & Support
Contact Biral for more information
To find out more about this instrument or to discuss your application requirements please do not hesitate to contact Biral.
email enquiries@biral.com (or use the Request More Information button below the product photograph)
Telephone to 01275 847787 (from the UK) or +44 1275 847787 (International)
After Sales Support
Biral offers free advice and technical support for the lifetime of the instruments we sell. Once you have purchased the unit you can always contact us for help using the links on our Technical Support page.