Precipitation Transmitter
A range of tipping bucket and dropper rain gauges
Overview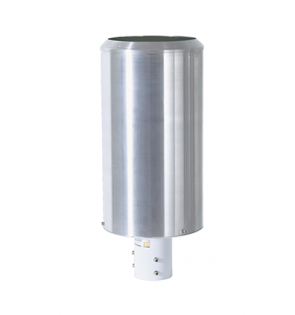 This range of precipitation transmitters incorporates both tipping bucket and dropper models to provide a wide range of resolution and intensity options.
All models feature a 200cms2 collection area and robust stainless steel housings. A range of outputs are available including pulse, current and wireless.
Heating is available for all models allowing operation in snow and freezing conditions.
Common Specifications
| | |
| --- | --- |
| Collection area | 200 cms2 |
| Maximum intensity | 11 mm/min |
| Operating temperature | -25° to +60° C |
| Dimensions | Ø225 x 445mm (typical) |
| Material | Stainless steel casing |
| Mounting | Onto a Ø50mm mast |
Accessories
5.4031.11.010                Bird spikes
5.4032.00.000             Wind protection
Sales & Support
Contact Biral for more information
To find out more about this instrument or to discuss your application requirements please do not hesitate to contact Biral.
email enquiries@biral.com (or use the Request More Information button below the product photograph)
Telephone to 01275 847787 (from the UK) or +44 1275 847787 (International)
After Sales Support
Biral offers free advice and technical support for the lifetime of the instruments we sell. Once you have purchased the unit you can always contact us for help using the links on our Technical Support page.