Biral is pleased to announce that it has secured a national project in Turkey with the MGM (the Turkish meteorological authority) to upgrade 120 automatic weather stations (AWS) with the Biral SWS-250 present weather sensor.
Last year the MGM procured 75 SWS-250 visibility and present weather sensors for the first roll-out of this upgrade program to add visibility and present weather data to their extensive network of AWS. This second phase extends this very successful initial project and will give the MGM an extensive national monitoring network across Turkey.
After rigorous evaluation and field testing, the Biral SWS-250 visibility and present weather sensor was selected to be used as part of the MGM's plans to update their national measurement network.
Nathan Neal, Marketing Director for Biral, commented "We are very pleased that the initial phase of this project went so well and has given the MGM the reliability and accuracy of the data they required, that they have decided to extend it nationally. We are proud to have won this significant tender and will build upon this with the MGM over the coming years."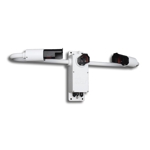 The SWS-250 present weather sensor is a highly specified unit, supplied with a class leading 3 year warranty and renowned for its rugged design and long life making it ideal for deployment in national networks where reliability and accuracy are paramount.
Further information is available from Biral on +44 1275 847787 or contact us here.
Ends
Biral25
24 November 2016