Ultrasonic Anemometer 2D Compact
The Ultrasonic Anemometer Compact measures wind velocity, wind direction as well as acoustic virtual temperature
Overview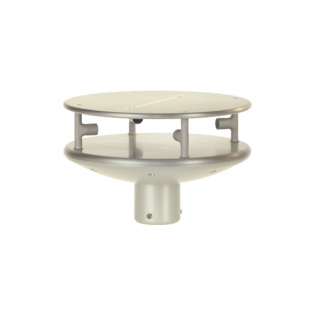 The Ultrasonic Anemometer 2D Compact is used to detect the horizontal components of the wind velocity and wind direction. In addition, the acoustic virtual temperature is measured.
The instrument is especially suited for use in the following fields:
Wind Energy
Industrial Automation
Building Automation
Traffic Applications
Meteorology
Climatology
Wind measuring systems for ships
The ultrasonic anemometer has no moving parts which greatly increases reliability whilst allowing accurate measurement even in very light winds.
Output of the measured values can be either digital and / or analogue.
Specifications
Wind speed
Measuring range
0.01 – 75 m/s
Accuracy
±2% measured value 5-60m/s
Resolution
0.01
Wind Direction
Range
0 - 360 degrees
Accuracy
±2°
Resolution
0.1°
Acoustic Temperature
Range
-50ºC to +70ºC
Accuracy
±2.0K
Resolution
0.1K
General
Data output serial
RS422 / RS485
Data output analogue
0-20mA, 0-10V or 4-20mA, 2-10V
Operating voltage - Sensor
8-60VDC or 12-42 V AC 1.2W typical
Heating (Model Dependent)
24 V AC/DC; 250W
Operating temperature
-50° to +80° C
Electrical connection
Multi-pin plug
Mounting
onto mast tube 1.5" Ø
Dimensions
Ø200 x 144 mm
Protection
IP67
Weight
2.0 Kg
Material of housing
Hard anodised aluminium
Available Variants
The sensor is available in a number of variants covering heating and data output options. For full details please follow the link: Thies_Ultrasonic_Options
Sales & Support
Contact Biral for more information
To find out more about this instrument or to discuss your application requirements please do not hesitate to contact Biral.
email enquiries@biral.com (or use the Request More Information button below the product photograph)
Telephone to 01275 847787 (from the UK) or +44 1275 847787 (International)
After Sales Support
Biral offers free advice and technical support for the lifetime of the instruments we sell. Once you have purchased the unit you can always contact us for help using the links on our Technical Support page.