RS85 Rain Presence Sensor
The RS85 Rain Presence Sensor is designed to detect the beginning and end of precipitation
Overview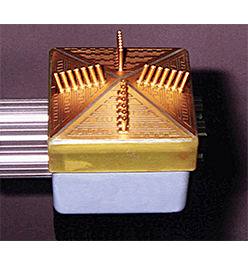 The RS85 Rain Presence Sensor is designed to detect the beginning and end of precipitation. It can be used for controlling closure settings, collection apparatus and status monitoring. It is suitable for almost all climatic conditions including snow fall.
The electronics are enclosed in a weatherproof housing. The electronic measurement and heating areas form the cover of the waterproof housing. The sensor surfaces are arranged in a pyramid of 15° to ensure that the rain water readily runs off for better accuracy. There are vertical pins appropriately placed to better measure snowfall by capturing snowflakes on the four measurement areas. As protection against corrosion and to further add to the measurement sensitivity both the sensor surfaces and the pins are gold plated.
The built in 2-step electronic heating is proportionally controlled and can be adjusted to the needs of the user. The lower step is active in basic operation. The second more powerful heating-step is activated as soon as there is a rain signal, so the fluid on the surface can evaporate faster.
Features
large sensitive, gold plated sensor surfaces (approx. 60 cm²)
vertical pins in four directions
adjustable, proportionally controlled heating of the sensor surfaces in two levels
adjustable and user definable relay delay
Specifications
| | |
| --- | --- |
| Measuring value | precipitation yes/no |
| Switch on | without delay |
| Switch off | with delay, adjustable 0 - 270 in 30s steps |
| Sensitive surface area | approx 60 cm2 |
| Contacts | potential free |
| | 100 V DC / 250 V AC |
| | max. 5 A |
| Power | 24V DC |
| Heating | proportionally controlled 24 VDC |
| Protection | IP 65 |
| Dimensions | 83 x 83 x 85 mm |
| Weight | 700 g |
Sales & Support
Contact Biral for more information
To find out more about this instrument or to discuss your application requirements please do not hesitate to contact Biral.
email enquiries@biral.com (or use the Request More Information button below the product photograph)
Telephone to 01275 847787 (from the UK) or +44 1275 847787 (International)
After Sales Support
Biral offers free advice and technical support for the lifetime of the instruments we sell. Once you have purchased the unit you can always contact us for help using the links on our Technical Support page.