Precision Pressure Transducer
A precision pressure transducer for use in environmental monitoring applications
Overview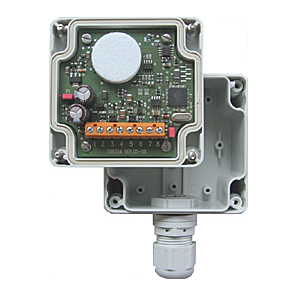 A precision pressure transducer for use in environmental monitoring applications. The versatile sensor has serial, frequency and analogue outputs, with the analogue output configurable for different pressure ranges.
Designed for both indoor and outdoor use, it is fitted with screw terminals to accept a user supplied cable. The cable gland incorporates a baffled air inlet for stable pressure measurement.
Please see the sensor manual, available in the downloads tab, for individual model specifications.
Specifications
| | |
| --- | --- |
| Measuring Range | 300-1100 hPa |
| Accuracy | ±0.25 hPa (heated) |
| Long term stability | ±0.1 hPa per year |
| Supply | Model Dependent |
| Temperature | -40ºC to +65ºC |
| Dimensions | 110 including gland x 82 x 57mm |
| Weight | 0.15 kg |
Sales & Support
Contact Biral for more information
To find out more about this instrument or to discuss your application requirements please do not hesitate to contact Biral.
email enquiries@biral.com (or use the Request More Information button below the product photograph)
Telephone to 01275 847787 (from the UK) or +44 1275 847787 (International)
After Sales Support
Biral offers free advice and technical support for the lifetime of the instruments we sell. Once you have purchased the unit you can always contact us for help using the links on our Technical Support page.