Brightness Transmitter Twin Output
This brightness transmitter is designed for the measurement of daylight intensity in building control and agricultural applications
Overview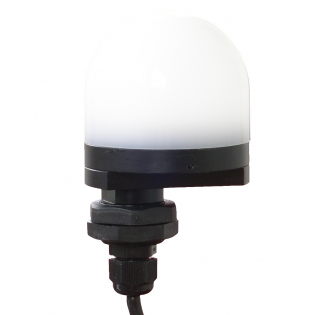 The brightness transmitter is designed for the measurement of daylight intensity of use in building control and agricultural applications. The sensor is independent of the radiation direction within ±90º of horizontal. The sensor has two outputs which are user selectable between 0-10V and 0-20mA. The first output is user configurable the second is fixed to a low range for use in twilight.
Specifications
| | |
| --- | --- |
| Measuring Range 1 | User configurable (see manual) |
| Measuring Range 2 | Model dependent (see manual) |
| Spectral range | 350-820nm |
| Accuracy | ±3% of measured value |
| Supply | 24 VAC or DC |
| Temperature | -30ºC to +70ºC |
| Dimensions | Ø70 x 73.5mm |
| Weight | 0.15 kg |
Sales & Support
Contact Biral for more information
To find out more about this instrument or to discuss your application requirements please do not hesitate to contact Biral.
email enquiries@biral.com (or use the Request More Information button below the product photograph)
Telephone to 01275 847787 (from the UK) or +44 1275 847787 (International)
After Sales Support
Biral offers free advice and technical support for the lifetime of the instruments we sell. Once you have purchased the unit you can always contact us for help using the links on our Technical Support page.