For the offshore industries, thunderstorms play a significant part in disrupting operations including personnel transportation by helicopters. It is not just the threat of lightning but also the dangerous wind-shear and icing events which can take place in a cumulonimbus cloud.
A new thunderstorm detector from Biral can provide early warning of a nearby thunderstorm and so ensure the safety of operating personnel and minimise downtime.
Biral's experience from the aviation and industrial sectors where the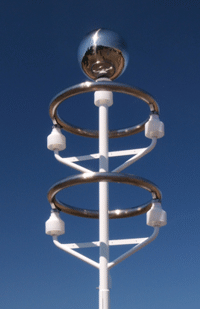 dangers of lightning activity have been understood for many years, has allowed the company to develop its new BTD-300 Thunderstorm Detector for the oil, gas and wind energy sectors.
Whilst there are existing lightning systems available, these only alert after the strikes have begun, whereas Biral's new BTD-300 uses a quasi-electrostatic operating principle which gives early warnings of overhead lightning risk and detects strikes as far as 83 km away.
An additional advantage of the BTD-300 thunderstorm detector is the operational time gained after the lightning has stopped. Usually technical crew wait about one hour after the last lightning strike has been reported by remote, third party lightning location networks. With live on-site monitoring using the Biral BTD-300, an immediate restart of activities can be made once it is safe to do so.
As well as lightning detection, the BTD-300 has the ability to detect the presence of electrically charged precipitation and strong electric field. Both of these features indicate the presence of a cumulonimbus cloud overhead, providing early warning of potential nearby lightning activity.
The Biral BTD-300 is virtually immune to all forms of man-made radio frequency interference so minimising false alarms. With the ability to detect over twice as many flashes as conventional lightning detectors, the high sensitivity combined with low false alarm rates makes it ideal for thunderstorm detection.
Virtually maintenance free in operation, the BTD 300 can either interface directly to an integrated system or be operated using logging software. The optional warning relay module allows the sensor to automatically sound alarms whenever a storm approaches.
Biral is one of the world leaders in meteorological instrumentation and this year celebrates its 40th year in business, supplying the international market with one of the largest product ranges available.
Further information on the BTD-300 Thunderstorm Detector is available from Biral on +44 1275 847787, email: enquiries@biral.com
Ends Biral6
16 November 2015