Bristol based meteorological equipment manufacturers, Biral UK, has supported its local Royal National Lifeboat Institution (RNLI) this Christmas by donating its £150 seasonal budget to the lifeboat centre in Portishead.
The team at Biral, located very close to the centre, made the decision to spend the money usually set aside for corporate Christmas cards for their key customers on a chosen charity. The Biral staff submitted their preferred charities and the majority of entries were in favour of the local RNLI Portishead Trust.
This year has been an exceptionally important and exciting year for Portishead Lifeboat Trust as it has received a brand new, state-of-the-art lifeboat station which is fully operational and run by existing staff from the Portishead and Bristol Lifeboat. The new station includes a new boat house as well as a new ramp and lower slipway to enable the efficient launch and recovery of the lifeboat.
As one of the UK's leading manufacturers of offshore meteorological equipment, Biral felt that the RNLI Portishead station was a particularly beneficial recipient of the donation. The company has been producing equipment and sensors for 40 years, some of which are designed to detect the presence and proximity of thunderstorms, one of the main causes for rescues carried out by the RNLI across the UK.
As a thank you for the donation, RNLI Portishead will be hosting a tour of the new station for some of the staff who encouraged the decision to donate to the trust.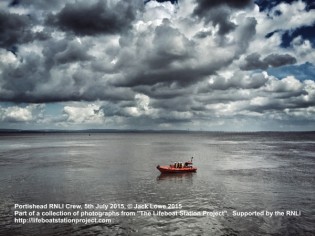 This remarkable image shows the Portishead Crew launched in the Severn Estuary, which at 50 feet has the 2nd highest tidal range in the world.  The image is part of "The Lifeboat Station Project" by Jack Lowe. Supported by the RNLI, Jack Lowe is visiting all 237 RNLI Lifeboat Stations in the UK and Republic of Ireland, creating an unprecedented photographic documentation, encapsulating a vital aspect of our island nation's culture.
Further information is available from Biral on +44 1275 847787 or email: enquiries@biral.com
Ends