The event, running from 11-13 December, provides an annual forum for scientists, academics, clinicians, regulatory and industry specialists involved in developing medicines for inhalation. DDL 2019 will have five themed sessions each with a combination of invited and submitted lectures given by experts in the field of inhalation and students working to advance respiratory science.
Biral will be exhibiting at the event to showcase its own Aerosol Optical Tweezer (AOT) equipment. Biral's AOT-100 device was developed in collaboration with Bristol University's Aerosol Research Centre.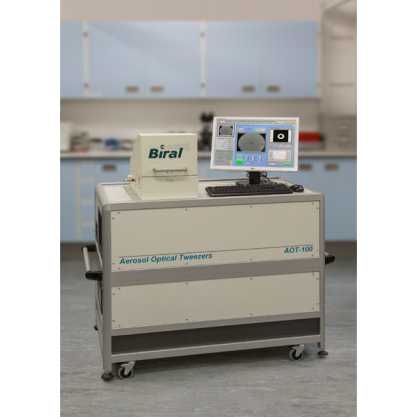 Unlike other aerosol instruments that have mostly relied on transits through an illuminated measuring volume that last of the order of microseconds, the Biral AOT-100 allows users to hold airborne droplets for extended periods with ease. Holding these in an optical trap enables many different parameters to be measured continuously, over times varying from milliseconds to hours.
The Biral AOT offers a step-change in what can be achieved in the measurement of airborne aerosols. It is a tool that can be used for a very wide variety of research objectives many of which may be novel. The instrument has been designed to provide a range of measurement techniques that have been extensively developed and have been shown to be reliable. The components and design of the system offer a high degree of flexibility that should enable the development of new applications. Biral would be pleased to discuss and offer advice on the feasibility of any such novel or innovative applications.
The equipment is currently being used by The Wilson Research Group at the Chemical Sciences Division of Lawrence Berkeley National Laboratory (LBNL) in California and the University of California in San Diego. Two of Biral's AOT systems are also being used by the Max Planck University in Germany with one being at their collaborative research partner university in China.
---
Further information is available from Biral, call +44 1275 847787 or complete our enquiry form.
Ends.
Biral AOT6
27 November 2019
For further editorial information contact Nathan Neal of Biral on +44 1275 847787, email: enquiries@biral.com or Julia Fitzgerald of Vantage PR on +44 1600 715251, email: pr@vantage.uk.com.
For editorial charge requests please email Brenda Christopher at brenda@vantage.uk.com.
Issued on behalf of Biral, Unit 8, Harbour Road Trading Estate, Portishead, Bristol, BS20 7BL www.biral.com by Vantage Public Relations, 14 White Swan Court, Monmouth, Monmouthshire, NP25 3NY, www.vantage.uk.com
NOTE TO EDITORS:
Established in 1975 Biral is a specialist in the design, manufacture and supply of particle analysis and climate research instruments for science, industry and the environment. It is also a leading manufacturer of meteorological instruments and supplies the international market with one of the largest ranges of products available.
CAPTION FOR IMAGE 1: Industrial sensor manufacturer, Biral is exhibiting at the Drug Delivery to the Lungs (DDL) 2019 Conference in Edinburgh. Biral will be exhibiting at the event to showcase its own Aerosol Optical Tweezer (AOT) equipment. Biral's AOT-100 device (pictured) was developed in collaboration with Bristol University Aerosol Research Centre.