Following the launch of its new technology thunderstorm detection system which has significant benefits for the wind energy sector, meteorological equipment specialist Biral's Alec Bennett has produced a technical white paper on the success of this system in detecting imminent lightning.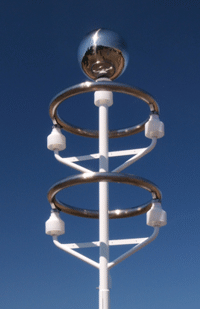 Entitled 'Warning of imminent lightning using single-site meteorological observations', the paper discusses the effectiveness of meteorological observations made at a site to warn personnel of imminent nearby lightning.
The company's BTD-300 Thunderstorm Detection system has the ability to detect all forms of lightning within an 83km radius, including warning of potential overhead lightning. The equipment is immune to man-made false alarms making it highly reliable in safety critical situations such as during turbine construction and maintenance.
This new white paper from Biral is available at https://tinyurl.com/y8bto48v
Lightning warning using single-site observations is especially useful where access to real-time data from remote observations is not possible or cannot be guaranteed.
Further information is available from Biral, call +44 1275 847787 or complete our enquiry form.
Ends.
Biral51
25 July 2018
Biral is supported by Vantage PR
For further editorial information contact Nathan Neal of Biral on +44 1275 847787, complete our enquiry form or Julia Fitzgerald of Vantage PR on +44 1600 715251, email pr@vantage.uk.com. 
For editorial charge requests please email Brenda Christopher at brenda@vantage.uk.com
Issued on behalf of Biral, Unit 8, Harbour Road Trading Estate, Portishead, Bristol, BS20 7BL www.biral.com by Vantage Public Relations, 14 White Swan Court, Monmouth, Monmouthshire, NP25 3NY, www.vantage.uk.com