Latest RVR Sensor Technology at Madinah Airport
Our latest RVR sensor technology: a case study
The Prince Mohammad Bin Abdulaziz International Airport, Saudi Arabia, is being expanded and modernised as part of a strategy to reform the kingdom's aviation industry. The scheme includes the upgrading of the runway using state-of-the-art VPF RVR sensors designed and manufactured by Biral.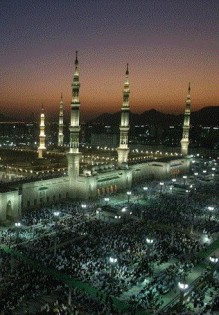 The airport serves the city of Madinah, the second most holy city in Islam and a major pilgrimage destination. This combined with its status as a designated centre for knowledge-based industry has led to a huge increase in airport demand. The development of the airport will meet this demand and the inclusion of an automated weather observation system serves aviation and meteorological observation needs. Accurate and reliable measurement of visibility and observance of weather conditions is critical in aviation and the high-specification Biral sensors at Madinah provide trustworthy information, allowing air traffic control to respond appropriately and efficiently.
Right: The new airport serves the city of Madinah, catering for Hajj and Umrah pilgrims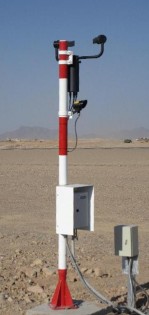 Installed along the runway at the Prince Mohammad Airport are three Biral RVR forward scatter sensors. This high RVR configuration ensures absolute coverage, allowing flights to continue until the lowest visibility limits and so enabling the highest efficiency in the running of flights. The sensors are designed to withstand the most aggressive conditions; both of climate and the corrosive effects of film residues from engine blasts. At Madinah the equipment overcomes the hot, dry and unforgiving environment to transmit consistently accurate information to the ATC tower. Each sensor comprises a single lightweight unit with a robust high-grade aluminium casing, fabricated using dip brazed aluminium with a hard coat anodised finish, for extreme durability. The minimal maintenance requirements and running costs combined with a long operational life of the detectors assists the airport in providing an efficient and smooth service for travellers.
The Automated Weather Observation System at Madinah Airport has been installed by MicroStep-MIS, a specialist developer and installer of meteorological systems. Explaining their involvement on the project, Martin Gazak, project & system development manager at MicroStep-MIS said, "We know that we can always rely on Biral and we have an excellent long term relationship with the company. Biral sensors always provide very accurate results and once again are proving to be extremely reliable on this installation."
Biral manufactures and supplies high specification visibility and present weather sensors designed to suit the needs of users and specifiers. The reliability, durability and accuracy of Biral sensors is reflected in their extensive use in sectors where these qualities are critical. In addition to airport RVR systems, Biral provides sensors as marine navigational aids, roadside fog warning and to increase sea and air navigational safety.